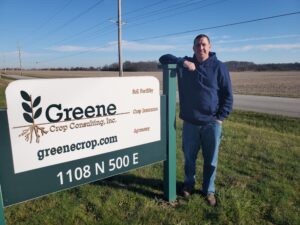 Welcome T.J. Fisher to the Greene Crop Team!
Greene Crop Consulting, Inc. would like to welcome our newest employee, T.J. Fisher. T.J. has an educational background in Aerospace Engineering with an Associate's Degree from Purdue University and a Bachelor's in Manufacturing Engineering Technology from Ball State. In previous roles, he managed a specialty corn elevator and worked in commercial tomato production. Most recently, T.J. gained hands-on experience with field drainage tile and cover crop application.
He resides in Shelby County with his wife, who is a schoolteacher, and their four children. T.J. is motivated, detail oriented, and has a passion for agriculture. He is ready to help farmers make positive farm improvements based on sound, proven agricultural practices.  Welcome T.J. when you get a chance at tj@greenecrop.com.
CFAP 2
Earlier this fall we wrote about the second round of CFAP (Coronavirus Food Assistance Program) payments. The signup deadline for program payments is December 11th.  The CFAP 2 program is not a continuation of the first program and is funded from a different source. You did not have to participate in the first program to receive a payment from this program. If you have not already signed up for this program, we highly suggest that you do. Please note that just because you signed up for the original CFAP program does not mean that you are signed up for this program. You will need to call and schedule an appointment with your county FSA office. This is not a first come-first serve program, but you should still try to sign up before Friday, Dec 11. If you have any questions about what crops qualify for the program, there is a link to the CFAP 2 website in resources for your review.
Selecting the Right Corn Hybrid
This time of year, seed sales folks are out in force selling you seed for next year's crop. It can often be overwhelming when trying to select what seed to purchase for the coming crop year. Included are a few factors to consider when selecting hybrids.  These include yield potential, agronomic traits, maturity, and cost.
When comparing hybrids, look for yield data that is repeated across multiple locations. Look for trials from universities, grower associations, and seed companies. Look for data from areas that best represent your growing conditions. Check that the hybrids you are evaluating are consistent across trials. For example, a hybrid that is in the top 20% of yield across all trials is a consistent hybrid. Be careful of hybrids that are all over the board for yield. If included, statistical results such as least significant difference (LSD) can help you understand if two varieties truly differ in performance.
Think about disease pressures you have had in the past in fields that are going to corn next year. One of the best ways to fight diseases is with genetic resistances and tolerances. Consider what weed issues have you had. Use that information to decide what herbicide resistance traits you should pick to control those issue.  As with herbicides, if we keep using the same genetics, we run the risk of creating resistance.  Cool, wet weather patterns or pushing the planting windows can result in stand loss. If you can relate to this, you might also look at the early season vigor scores. The maturity of a hybrid is also important.  Ideally, multiple maturities would be used to spread out harvest. Hybrids that finish roughly 100-200 GDUS before a typical growing season ends are ideal. This allows for grain dry down.
Selecting the right hybrids are important, but it is also important to also not break the bank. Choose cost-effective hybrids that meet your needs. It's possible to achieve good yields without buying the flagship hybrid. If you have any questions about hybrid selection or want to talk through some of your questions give us a call.
Resources
CFAP 2 Information
https://crops.extension.iastate.edu/cropnews/2017/10/guide-choosing-corn-hybrids